I mean, how often do you find something that people love that's not a high-end model? And the NI-E300TR isn't even a mid-range model. I felt sure that when I worked with it, I would find several problems. And instantly I made it my mission to find out all of its dirty secrets.
I didn't find anything earth-shattering. It does have a couple of issues and it's not going to please everyone, but this could be a solid choice for many.
Will the NI-E300TR impress you or leave you disappointed? Read on to find out.
Description
The NI-E300TR is the second model in the line of Panasonic's economy steam irons. With several great features including a manual steam boost and retractable cord, the NI-E300TR is as functional as it is inexpensive. With a uniquely shaped titanium coated soleplate, it smoothly disperses steam and eliminates wrinkles where your garments need it most.
Heat, Temperature Settings and Warm-up
At 1200 watts, it will provide the heater with enough power to get to maximum temperature in less than a couple of minutes, though cooler temperature settings will see a warm-up time of 15 seconds or less!
With several fabric settings printed right on the dial, the Panasonic NI-E300TR takes the guess-work out of how much heat you need. Though you can't expect a 1200 watt iron to get as hot as irons with more power can, I found that overall the temperature settings were very accurate and produced enough heat at its highest setting.
I like that this iron indicates with a small light that it's heating up, and when it turns off, it's ready to go. I also noticed that as you iron, the light will turn on to let you know it's working to keep up to temperature.
Steam
While Panasonic has added options for dispersing steam, I feel that they could have gone a little further. They are limited to Dry, Low and High. I personally like to have more control over how much steam my iron will provide, but that's my personal preference. If you hadn't considered that already, you probably won't miss any extra settings.
Personal preferences aside, I found that when one of these steam settings is selected, the steam is constant and has good coverage.
Otherwise, the Panasonic NI-E300TR does have two more options in regards to steam, and they are both controlled by a button that Panasonic calls the "Jet of Steam." Primarily, it's a steam-on-demand feature that is used for that extra steam boost to help you straighten tough wrinkles as you iron. This feature cannot be used for steaming vertically.
The steam options on this iron do not operate at all temperatures. In fact, they can only really be used when the thermostat is set in the "Steam Zone." This zone falls between the Cotton and Linen settings for constant steam. The steam-on-demand button should only be used when the iron is at the Max/Linen setting. Otherwise, it needs to be left on "Dry" so that water doesn't leak out all over your clothes!
Lastly, there is also a spray mist option, which I'm sure all steam irons have. I'm also sure you know what it is, so I won't get into it in depth. All you need to know is that it works via a pumping action and that the spay mist it has fairly decent coverage.
Soleplate
The soleplate is really where the action is. As you can imagine, an iron is completely worthless if it doesn't have a good soleplate. The Panasonic NI-E300TR has a very unique soleplate, designed to glide smoothly over your clothes while dispersing steam and heat evenly across its path.
The differences in the soleplate shape are threefold, and these modifications combine to help you get through your ironing a little faster.
Sharper Tip: This makes the soleplate a little slimmer and gives it a smaller footprint, but I don't think that it detracts from the iron. In fact, I think it's an improvement because it makes it quite maneuverable and lets you squeak into tight corners and get closer to seams than you might with other irons.
Curved Bottom: The surface of the soleplate has a slight curve to it. This is important because as you move the iron forward, the most pressure between the soleplate and your material isn't all at the front where the tip can create little folds when you iron quickly. Instead, the gentle curve moves that pressure to the center of the soleplate. This means that the pressure, and in turn, the heat is more evenly distributed and irons better with fewer passes. It also takes the pressure off the tip so you can iron a little more quickly without snagging or wrinkling.
U-Shaped Base: This is the first thing I noticed. The bottom of the soleplate is not flat like most others are. I really like this because it adds to more maneuverability, but there's a more important reason behind this design. There is a groove in the soleplate that follows this curve. Together, these two features work together to collect steam after it starts escaping from the cloth and circulates it back into it in the center. It's a rather efficient way of handling the steam.
Other highlights include 29 steam holes that line the top two-thirds of the soleplate's outer edge as well as a titanium coating. All together, these features make up a soleplate that delivers a smooth ironing experience.
I don't see any real downside to the soleplate, with one tiny exception. The non-stick titanium coating is just that – a coating. In order to keep it in good condition, you really have to pay special attention to keeping it clean and storing it properly. Though it's important to care for and protect any soleplate, a coated one requires just a bit more consideration.
Performance & Design
The Panasonic NI-E300TR steam iron performs quite well for an economy iron. As I mentioned earlier, it does get plenty hot and has a decent range of steam options. I also said that it glides quite smoothly. It doesn't hurt that the clear green housing looks really sharp against the white plastic!
I do quite like that it's fairly lightweight. I personally prefer a heavier steam iron, but I know that I might actually be in the minority on that one. But I like this one because of where its center of gravity falls – the fact that its light doesn't seem to take away from it because of the soleplate design. It makes it feel like it's doing the same job a heavier iron would, but without having to spend so much energy to push it around.
The one issue that I have is that I don't like the way they designed the base. It's really smooth and it doesn't feel stable to me when it's sitting upright. I'm really clumsy and I'm always bumping my ironing board, and I know it would be just a matter of time before it took a fall. Also, I don't think it would work well for padded ironing boards. They aren't firm enough.
Water Tank
The clear green housing lets you see how much water is in the water tank. It holds a touch more than 7 ounces, which is about right for a smaller iron.
One of the benefits of this iron is how easy it is to fill, though it does take two hands. Simply lift the water inlet cover and hold the iron at a 45° angle with one hand. You can then easily pour from your water container with the other with no spillage because the water inlet is very large. There is a clearly marked maximum water line that should be adhered to. Filling up the NI-E300TR with too much water can cause leaking. So save your clothes by avoiding the temptation!
If you have very hard water in your home, use distilled water. Otherwise, it's recommended you use regular tap water. I know that using distilled water would probably cause less buildup, but it will shorten the life of the soleplate. Never use softened water as the additives will definitely shorten its life.
Auto Shutoff
Not only am I clumsy, but I'm also forgetful. If I'm waist-deep in ironing and have even a hint of distraction that takes me away from ironing, it's very possible I'll get distracted by five more tasks before I remember that I left the iron on. And then when I'm on my way back, the phone will ring.
That's why I love irons that have an auto-shutoff feature, as this one does.
The auto-shutoff works extremely well for an economy iron, too. It works in 3 different ways – if you leave it on and walk away like I do all the time, it will turn off the heating element after ten minutes. Well, what if you walk away and the dog bumps your ironing board, knocking your iron on its side or soleplate? It will turn off after just one minute. Of course, a minute is still long enough to damage something, but at least it reduces the risk of fire. You should, of course, never walk away from a hot iron. And yes, I'm trying to take my own advice.
A mercury-free motion sensor is what gives the Panasonic NI-E300TR this ability. If you come back to the steam iron and find that it has turned itself off automatically, simply pick it up and shake it until you see the thermostat indicator light up.
Panasonic NI-E300TR Cord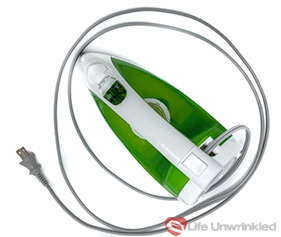 Believe it or not, a retractable cord is one of the most-loved features for many people. Some don't even realize how handy it is until after they experience it first-hand. The Panasonic NI-E300TR has a retractable cord that's both very handy and seems work very well.
The cord, in addition to being retractable, can be pulled out to a shorter length if that's what you want it to do.
The downside is that the cord doesn't pivot at the base of the iron. This gives you less control over the cord as you iron, but that might not matter to you. The cord pulls out from the right side, so if you're right-handed, that's the side of the iron that will be facing away from you and the cord will naturally want to fall on the opposite side of the ironing board.
However, if you're a strictly left-handed person, walk away from this iron. Trying to use the iron with the cord will be a pain.
The cord itself is about 8' long, which is fairly lengthy these days, but you may find that you need an extension cord. If you do, make sure that you use a heavy-duty 120-volt extension cord rated at least 10 amps. Steam irons use a lot of power and if you use an extension cord that's rated less than 10 amps, you could be creating a fire hazard.
Controls & Settings
All of the buttons and switches on the Panasonic NI-E300TR are nicely laid out and easy to use.
The temperature dial handles all of your temperature settings and is also where you turn the iron off. I like that there are two different styles of fabric settings incorporated on the dial. The first type of fabric settings are indicated by fabric type and include acrylic, silk, wool, cotton and linen. The second style of fabric settings correlates with Ironing Laundry Symbols. When you look at your laundry tags attached to your clothes, the proper setting to use is represented by a picture of an iron with some dots in it, as you can see here. They correspond to the dots on the dial, which are displayed without the iron part of the symbol: • (low) •• (medium) ••• (high)
All this means that there is no way to select the wrong temperature. It also clearly points out where the steam zone is.
Directly in front of the handle is where you will find both the Spray Mist button and the Jet of Steam (steam-on-demand) button. These buttons are side-by-side and in very easy reach of your thumb when using the iron. Note that both buttons, depending on why you're using them, might need a pumping action. I'm not a huge fan of this, but it is what it is.
In front of those buttons is where you will find the steam setting switch. It has three settings – Dry, Low Steam and High Steam. This switch should stay on the Dry setting unless the iron is heated up to a temperature located in the Steam Zone.
The Thermostat Operating light, when it's on, can be seen through the clear housing underneath the handle. Don't mistake this for a power light! It only turns on when the iron is heating up.
And lastly, the button to retract the cord is found on the left side near the base of the iron.
Panasonic NI-E300TR Steam Iron Cleaning & Care
For those of you who like to have a little extra help with keeping your iron clean, the NI-E300TR comes with an auto-clean function that is fairly simple to use. Just heat it up when it has at least half a tank of water, hold it over the sink, and pump the "Jet of Steam" button. This will help to keep your steam vents clear of any lint or debris that can clog up the holes over time.
The recommended cleaning after every use includes wiping down the housing with a damp rag and a little soap, and cleaning the soleplate requires only ironing over a clean towel. This step is especially important if you use starch.
You should never use any abrasives or chemicals on the soleplate, as this can damage the finish and ultimately ruin the iron. Also, make sure the iron is empty and left standing on its base when storing it. If you ignore both of these, as people with ironing boards that have storage holsters built in might, expect water to leak out. Always leave the steam setting to "Dry." (Do I sound like a broken record yet?)
Dimensions
Upright Height: 10-1/16"
Soleplate Width: 5-5/16"
Height from bottom of soleplate to top of handle: 4-7/16"
Weight: 2.6 lbs
Pros
• Soleplate designed with ironing in mind: heats and steams evenly, glides well
• Lightweight and doesn't easily snag or catch
• Lots of features for a great price
• Tons of happy owners, few complaints about it breaking
Cons
• Not suitable for left-handed people
• Not incredibly stable in its upright position
• Water can leak from the soleplate if the steam setting is not set to dry
• Water can leak if it's not emptied before storing
Panasonic NI-E300TR Consumer Ratings
When I research customer reviews, I try to analyze as much information as I can. After years of working as a web programmer, organizing information and numbers is second nature to me. I love to sit down with a notebook and a spreadsheet and take in as much as I can.
I consistently found that most people who purchased this iron were happy. Many people bought the Panasonic NI-E300TR iron because of its comparatively low price point but were surprised at the quality. Some bought it because Panasonic is a brand they trust.
Others rave about the features, especially the retractable cord. The amount of heat and quality of steam impressed quite a few, and many noted that ironing was smooth and consistent, thanks to the design of the soleplate.
I found that over 86% of people who left a customer review gave it 4 stars or better compared to about 7% who gave it 2 stars or less. This is really good, considering the number of reviews I looked at overall was well over 400.
As for the defective products, there were very few reports, but they were there. It looks like most of those stem from the motion sensor failing and causing the iron to heat up sporadically or not at all. There were a few complaints about the cord spooling mechanism failing as well.
This model comes with a 1-year warranty, which I feel confident that you probably won't need to use, but is there in case you do.
Price
The original list price of $35.99 is not unreasonable, but I think that if you were to pay full price, it might be worth shopping around.
Lucky for us, I haven't actually seen it listed at that price! I think that if you were to look to pay around $25, you would be getting this fully featured steam iron at a great price.
Summary
This iron is not for everyone. Some will turn up their nose at it just because they can. And there are some legitimate reasons not to buy it. But overall, if you read my full review on the Panasonic NI-E300TR, you know what to expect.
Why shouldn't you buy it? If you want a blazing-hot iron, this might not impress you. Are you're left-handed? There are other irons that are better suited to you. If you need a lot of control over steam, you may be disappointed. You may want to choose another iron if you like to steam at lower temperatures because the NI-300TR won't cut it. Some people don't like an iron that turns off automatically. This one does.
If you need a steam iron for just a few garments at a time, this could be your next iron.
It does have accurate temperature settings, and it does get pretty hot for a 1200 watt iron. I feel like it glides and steams pretty well. It might not be best if you like to iron everything under the sun once a week, but depending on your fabrics, it could work just fine.
What I do know is that people who buy this iron seem to be a pretty happy bunch overall, and that speaks volumes. The fact that I see so few complaints about it breaking down speaks to the quality, which is rarely seen even in high-end irons these days.
Available Now At:

Click the logo to see current price and availability
Commissions may be earned from this link.